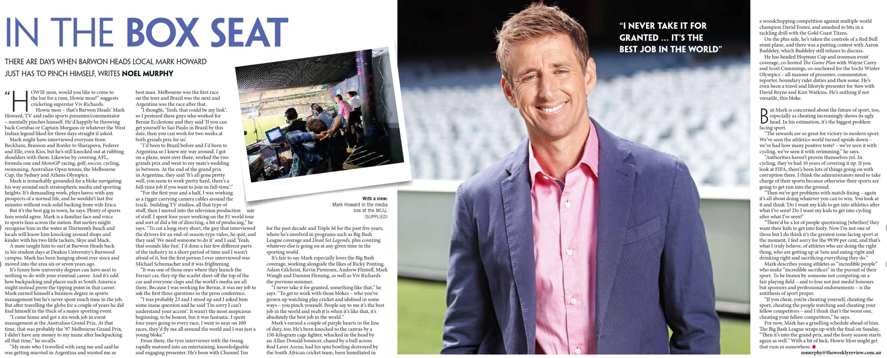 "HOWIE mon, would you like to come to the bar for a rum, Howie mon?" suggests cricketing superstar Viv Richards after broadcasting Big Bash cricket seven nights in row. Howie mon — that's Barwon Heads' Mark Howard, TV and radio sports presenter/commentator — mentally pinches himself.
He'd happily be throwing back Corubas or Captain Morgans or whatever the West Indian legend liked for three days straight if asked.
Mark might have interviewed everyone from Beckham, Branson and Border to Sharapova, Federer, Elle, even Kiss, but he's still knocked out at rubbing shoulders with them. Likewise by covering AFL footy, Formula One and Moto GP racing, golf, soccer, cycling, swimming, Red Bull air races, the Aussie Open tennis, the Melbourne Cup, the Sydney and Athens Olympics.
He's remarkably grounded for a bloke navigating his way around such stratospheric media and sporting heights. It's demanding work, plays havoc with any prospects of a normal life, and he wouldn't last five minutes without rock-solid backing from wife Erica.
But it's the best gig in town, he says. Plenty of sports fans would agree.
Mark Howard's a familiar face and voice to sports fans across the nation. Surfers might recognise him in the water at Thirteenth Beach, locals will know him knocking around shops and kinder with his two little tackers, Skye and Mack.
A mate taught him to surf at Barwon Heads back in his student days at Deakin Uni's Burwood campus. He's been hanging about ever since and moved in six or seven years back. His original home was Tyers, over Gippsland way. A circuitous way of getting places, perhaps, but that's been the way of his career, too.
It's funny how university degrees can have next to nothing to do with your eventual career. And it's odd how backpacking and places like South America might instead prove the tipping point in that career.
Howie earned himself a business degree in sports management but he's never spent much time in the job as such. Mind you, after travelling the globe for a couple of years — the Americas, Europe, Africa, the Middle East — he did find himself in thick of a major sporting event.
"I came home and got a six-week job in event management at the Australian Grand Prix. At that time, that was probably the '97 Melbourne Grand Prix, I didn't have any money to my name after backpacking all that time," he recalls.
"My mate who I travelled with rang me and said he was getting married in Argentina and wanted me as best man. Melbourne was the first race on the tour and Brazil was the next and Argentina was the race after that.
"I thought, 'Yeah, that could be my link', so I pestered these guys who worked for Bernie Eccleston and they said 'If you can get yourself to Sao Paolo in Brazil by this date, then you can work for two weeks at both the Grand Prix for us'.
"I'd been to Brazil before and I'd been to Argentina so I knew my way around. I got on a plane, went over there, worked the two Grand Prix and went to my mate's wedding in between. At the end of the Grand Prix in Argentina, they said 'It's all gone pretty well, you seem to work pretty hard, there's a full-time job if you want to join us full-time'."
And so Howie's first job in sport, as it transpired, was with Eccleston's Formula One World Tour. Not a bad gig, either.
"For the first year and a half, I was working as a rigger carrying camera cables around the track,  building TV studios, all that type of stuff, then I moved into the television production side of stuff. I spent four years working on the F1 World Tour and sort of did a bit of directing, a bit of producing," he says.
"To cut a long story short, the guy that interviewed the drivers for an end-of-season type video, he quit, and they said 'We need someone to do it' and I said 'Yeah, that sounds like fun'. I'd done a fair few different parts of the industry in a short period of time and I wasn't afraid of it but the first person I ever interviewed was Michael Schumacher and it was frightening.
"It was one of those ones where they launch the Ferrari car, they rip the scarlet sheet off the top of the car and everyone claps and the world's media all there. Because I was working for Bernie, it was my job to ask the first three questions in the press conference.
"I was probably 23 and I stood up and I asked him some inane question and he said 'I'm sorry I can't understand your accent'. It wasn't the most auspicious beginning, to be honest, but it was fantastic. I spent four years going to every race, I went to near on 100 races, they'd fly me all around the world and I was just a young bloke."
By his own assessment, Mark "just sort of found" his "way along from there" but the tyro interviewer with the twang rapidly matured into a thoroughly entertaining, knowledgeable and engaging presenter. He's been with Network Ten for the past decade and Triple M for the past five years, where he's deeply immersed in programs such as Big Bash and Dead Set Legends plus covering whatever else is going on at any given time in the sporting world.
It's fair to say he especially loves the Big Bash coverage, working alongside the likes of Richards, Ricky Ponting, Adam Gilchrist, Kevin Pietersen, Andrew Flintoff,  Mark Waugh, Damien Fleming …
"I never take it for granted, something like that," he says. "To get to work with those blokes — who you've grown up watching play cricket and idolised in some ways — you pinch yourself. People say to me it's the best job in the world and yeah it is when it's like that, it's absolutely the best job in the world."
Howie's headed Hopman Cup and Ironman coverages, co-hosted The Game Plan with Wayne Carey and Scott Cummings, The Premiership Panel, co-anchored for the Sochi Winter Olympics — all manner of presenter, commentator, reporter, boundary rider duties and then some. He's even been a travel and lifestyle presenter for 9am with David Reyne and Kim Watkins. Nothing if not versatile, this bloke.
But Mark Howard's concerned about the future of sport, too, especially as cheating increasingly shows its ugly head. In his estimation, it's the biggest problem facing sport.
"The rewards are so great for victory in modern sport. Whether you think Essendon took the drugs or not, we've seen the athletics world turned upside down — we've had how many positive tests? –we've seen it with cycling, we've seen it with swimming," he says.
"Authorities haven't proven themselves yet. In cycling, they've had 10 years of covering it up, Essendon still don't seem to know what they gave their players. If you look at FIFA, there's been lots of things going on with corruption there. I think the administrators need to take charge of their sports because otherwise their sports are going to get run into the ground.
"Then we've got problems with match-fixing — again it's all about doing whatever you can to win. You look at it and think 'Do I want my kids to get into athletics after what I've seen? Do I want my kids to get into cycling after what I've seen?'
"There'd be a lot of people questioning do they want their kids to get into footy. Now I'm not one of those but I do think it's the greatest issue facing sport at the moment. I feel sorry for the 99.99 per cent, and that's what I truly believe, of athletes who are doing the right thing, who are getting up at 5am and eating right and drinking right and sacrificing everything they do."
Mark describes young athletes as "incredible people" who make "incredible sacrifices" in the pursuit of their sport. To be beaten by someone not competing on a fair playing field — and to lose not  just medal honours but sponsors, professional endorsements — is the antithesis of sport proper.
"If you cheat, you're cheating yourself, cheating the sport, cheating the people watching and cheating your fellow competitors — and I think that's the worst one, cheating your fellow competitors," he says.
But cheating's been around a long time and probably unlikely to change dramatically soon. Mark recalls Raelene Boyle being beaten by the East Germans, and there's a lengthy catalogue of other outrages across all sorts of sport. We can always hope.
Meanwhile, Howie has a pretty gruelling schedule ahead of him the next few months. Not that he's complaining but it will take some organising.
"We finish up the footy season with Triple M, commentating the footy and Saturday mornings Dead Set Legends," he says. "Then in October there's a week in Bathurst for the V8s and then a week at Phillip Island for the MotoGP, there's also a couple more motor racing events in October.
"November, we're going away for three or four weeks, then Big Bash goes from 18 December right through to pretty much the start of February. Then it's into the Grand Prix and the footy season starts again as well."
It's all a bit like HG and Roy would say, too much sport is barely enough. With a bit of luck, Howie Mon might get that rum in somewhere.