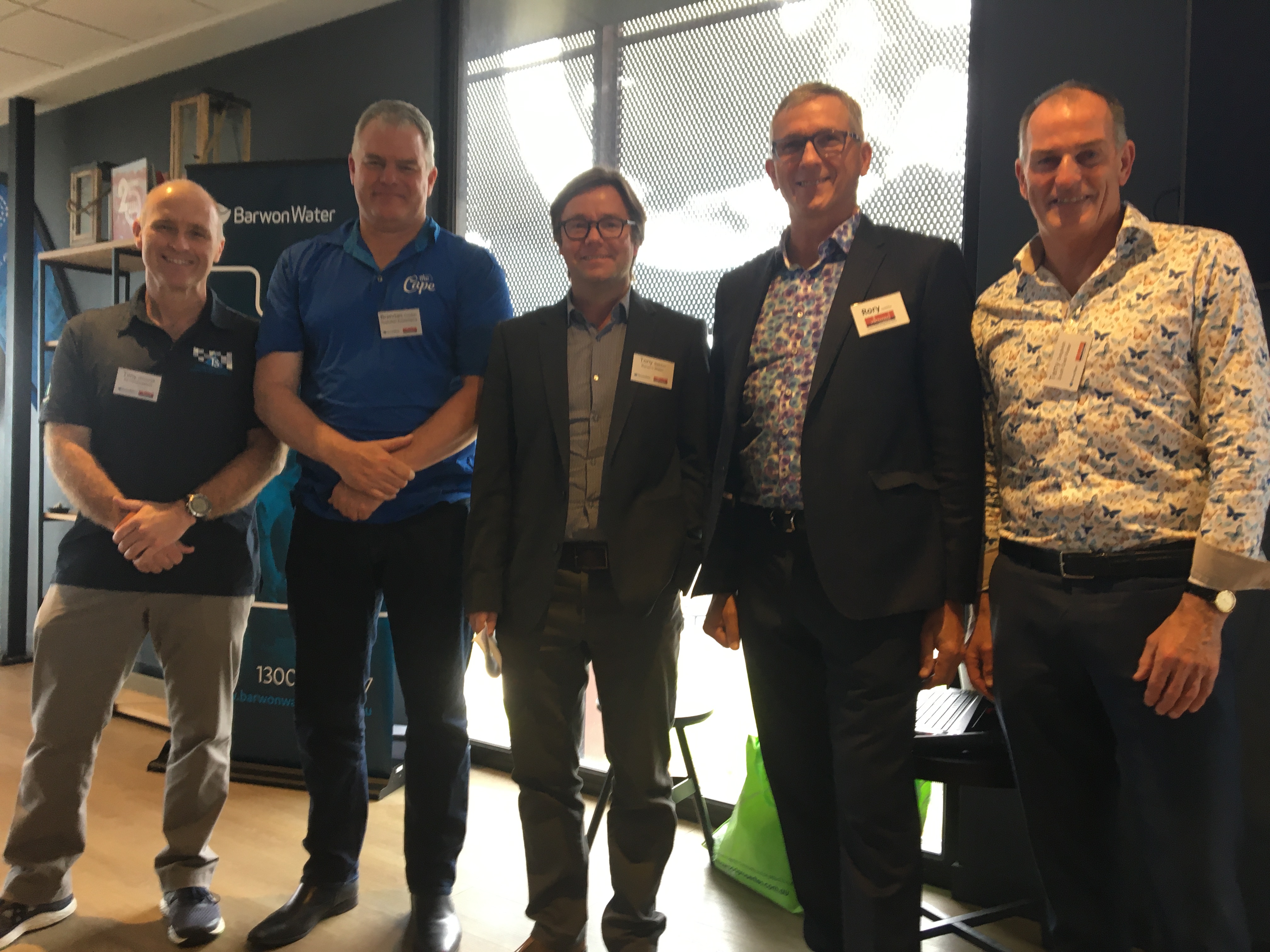 Negative power bills, fully self-sufficient water systems, 10-star energy ratings and more drew the attention of some 60-plus developers, builders, water authorities, government and community players at Club Armstrong, the latest in a series of sustainability seminars we have been hosting.
The latest seminar had two major water providers, Barwon Water and South East Water, on the panel, as well as Australian Ecosystems' Brendan Condon and TS Constructions' Tony O'Connell.  Collectively, 'Putting Sustainability into Practice', detailed design advances, energy and water technologies, building techniques and materials, pricing and investment returns in an intriguing glimpse into the future of how Australians will soon live.
Villawood and South Eat Water's own Aquarevo project, plus the ground-breaking advances by Australian Ecosystems' at The Cape project near Wonthaggi and Barwon Water's Salt development in Torquay provide compelling case studies of the 'negawatts'-focussed housing revolution.
The Cape's Mr Condon stressed the need for new housing to handle rising temperatures, citing increased heatwaves in major cities and pointing to 48-degree days last summer in cities such as Adelaide.
Houses at The Cape have been able to maintain temperatures in the low-20s throughout summer heat and winter cold while generating more energy than they use.
"I had one bloke complaining that he had a $52 winter bill," he said.
Mr Condon said the flipside of the need for zero-emissions housing was a "massive opportunity" for industry and the community. He talked of residential "power stations" supplying electricity to surrounding areas.
Other speakers outlined a raft of elements ranging from solar, seals, draft-proofing, thermal mass and product/appliance selection to design, water, urban food production and costings.
They also highlighted studies undertaken in tandem with universities and industry groups, declining rainwater resources, gas-free communities, heat-pumps, multi-purpose water/energy/activity apps, ground permeability, stormwater treatments, affordability and more.
"We're talking generational change," Mr Condon said.
"It's happened, we've broken through and it's now 'Go, Go!'
"We have councils and senior council staff now promoting how good these changes are, and holding workshops at our sites."
Villawood's own Rory Costelloe said the notion of sustainable housing was rejected widely in even recent years. Now, however, it was clearly high on the agenda of governments, authorities and industry.
"Five years ago, people weren't so brave," he said. "Three years ago, they were a bit braver. Now it's 'Have a crack!'" he said.
Mr Costelloe suggested water authorities were well poised to step into the space of energy provision, shifting the power base from overseas parties not primarily focussed on residents' interests.
Photo: Tony O'Connell TS Constructions, Brendan Condon Australian Ecosystems, Tony Belcher Barwon Water, Rory Costelloe Villawood Properties and Terry Dalgleish South East Water.
LINK: https://villawoodproperties.com.au/news/zero-the-new-housing-hero/