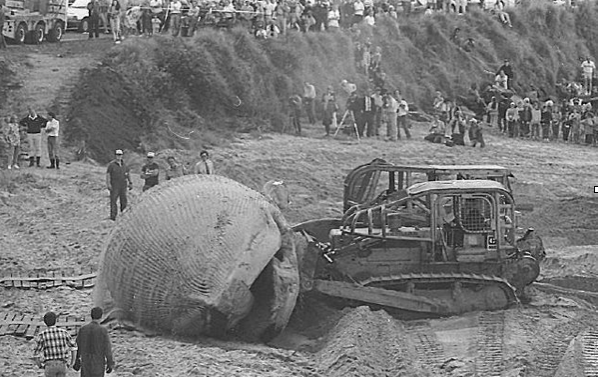 That exhibit made a fair old assault on the olfactories itself when it washed up on the beach at Cathedral Rock near Lorne back in 1992: a thumping great blue whale, 50 tonnes of the poor critter, 19m long and stinking to high heaven.
Needed a couple of 65-tonne cranes to lift it off the beach onto a low-loader to be hauled to the sewage farm where it was placed in an acid bath, stripping it back to the bare bones.
Next, a giant bag of bones — bar the skull and jaws — was sent to the South Australian Museum to be polished and prepped before being put together back in Victoria.
The noggin was cleaned up in Melbourne and the whole lot finally put on display in the foyer of the new Melbourne Museum for its opening in 2000.
It was the first large blue whale to be exhibited in Victoria in more than a century. The previous job, on display at Melbourne University until 1899, had been collected in 1867 at Jan Juc.
Been a few other museum artefacts found at Jan Juc since, ancient giant sharks and the likes. Become quite the fossil site.
The whale skeleton's quite the sight, too, if you haven't been to the Melbourne Museum. Spent a good bit of time around there when the kids were smaller. Always an exhibition of some sort on or a flick at the giant IMAX next door. Lost one of the toddlers there, actually, at one busy show. Fair old drama for a bit until she re-emerged with a staffer, quite unaware and unaffected by the parental panic.
Funny, Geelong was meant to have an IMAX on the waterfront years back. Had the unit sitting in storage for yonks but non-stop wrangling between City Hall, the then Geelong Regional Commission and Spring Street put paid to the idea.
Pity, because it's hosted all sorts of shows. I got to quiz an International Space Station commander one time about a flick that was on there. Likewise Hervey Bay whale-watcher Mimi McPherson, who plonked herself in the creature's skeletal midriff, playing the biblical Jonah for the opening occasion while also plumping a whale doco next door.
As for the old Metro Farm's pong, things aren't normally on the nose for passers-by unless there's a fairly stiff easterly blowing, which is relatively rare. As a Werribee-raised whelp, I'm beholden to defend the town's reputation. Far as I'm concerned, the malodorous infringement motorists malign Werribee about lies with an open sewer pipe than ran smack alongside the Maltby Bypass for decades until replaced by an underground trunk-line back in the '80s or '90s.
Wind your window down while driving along the bypass and a prevailing westerly was almost always ready to sling a fluffy's off his chain at you. So don't blame Werribee for Melbourne's fertile effluvia.
Beg yours, rant over, but driving past the farm does tend to pique the imagination. Scratch about and there are swags of stories tied to the airport, the farm and its ghost towns, the adjoining railway, the highway itself, migratory birds overhead and soon, given recent overtures, a COVID quarantine station.
There might be a pragmatism to siting the latter beside an international airport, provided it works better than a Tullamarine hotel. But to me there's a heavy irony in dumping a quarantine farm beside a sewage farm. And I do mean dump.
This story appeared in the Geelong Advertiser 9 March 2021