Geelong's premium residential property market is enjoying a boom market right now, in tandem with the region's surging greenfields land sales.
Villawood Properties' high-end Wandana project – with its sprawling panoramas of Geelong, Corio Bay, the Bellarine Peninsula and the Surf Coast – is leading the market with a raft of recent sales. With just 20 of its total 202-lot complement still for sale, Wandana's award-winning developer has saved some of its very best lots for last. And eager buyers are pouring in.
All in the interest of a fair go for buyers, of course – just as Wandana's very first sales were three years ago when Villawood put its first tranche of lots to auction because of the powerful buyer demand. And drew an average knockdown price of $500K, mind you. These lots are top of the hill, of course.
This was followed by multiple campers pitching tents on the slopes, staying for days in advance of the traditional sales launch and meeting their new neighbours in the process.
With 15 Wandana sales in the past couple of weeks, it's fair to say demand is still hot. Red hot. Which means that Wandana's final Zenith stage release can expect close attention.
And not surprisingly, because Wandana's attributes are considerable:
– Views across Geelong, Corio Bay from the You Yangs to the Bellarine Peninsula, the Surf Coast and ocean, and undulating rural hinterland vistas.
– Large sloping blocks offering class design opportunities
– Ready CBD, freeway and coastal access and amenity
– Full services across education, health, retail, entertainment
– Expansive open space and playground
– Three state-of-the-art water management systems for runoff and stormwater.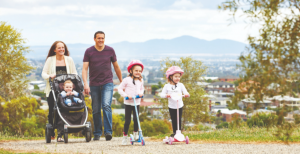 Villawood has offered architect-designed home-and-land packages with top-line builders to help streamline the slope-design possibilities and process.
Purchasers have been primarily locals, many of them from nearby and well aware of the area – and the fact a new Wandana home may cost less than an established home in the area. More recently, Melbourne buyers have tipped to the price, lifestyle and location factors in play at Wandana, too.
Wandana maintains a strong presence in the Geelong psyche. The Brownhill Lookout adjoining its Drewan Park playground has been a popular destination for more than a century.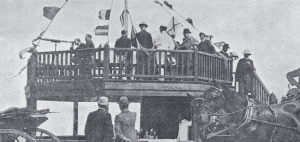 Great War hero, historian, journalist and philanthropist Walter Randolph Brownhill founded the Panorama Heights Reserve and its first lookout in 1907 (above). His name has been preserved in Wandana's Brownhill Drive.
Wandana presently has a handful of lots available with peninsula, Surf Coast and rural outlooks. And the final land release, within its Zenith precinct, will include parkfront lots looking out to the You Yangs, Geelong CBD and the Bellarine. Ninety per cent of Wandana might have been snapped up already but it's more than likely that rush experienced three years ago will be replicated again with this last hurrah.
If you're thinking of buying, best you make you sure you're not last up the hill.
This article appeared in the Surf Coast Times 25 February 2021