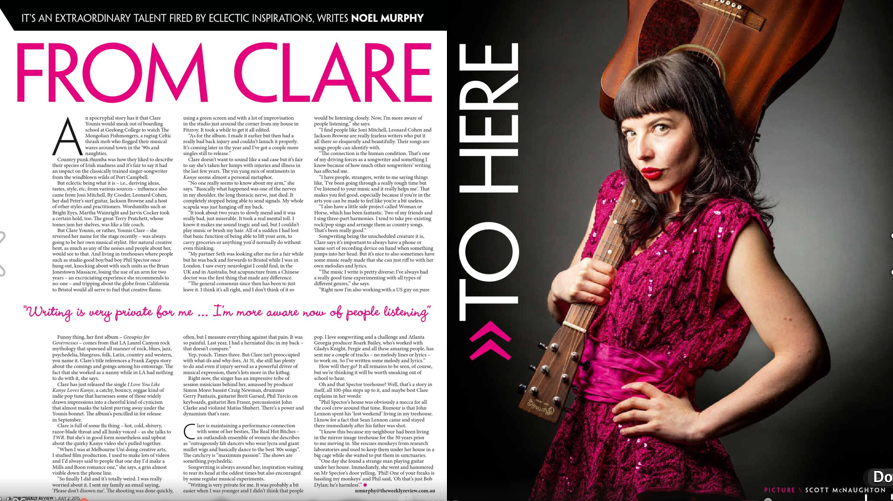 AN apocryphal story has it that Clare Younis would sneak out of boarding school at Geelong College to go watch The Mongolian Fishmongers, a ragtag Celtic thrash mob who flogged their musical wares around town in the 90s and naughties.
Country punk rumba was how they liked to describe their species of Irish madness and it's fair to say it had an impact on the classically-trained singer-songwriter from the windblown wilds of coastal Port Campbell.
But eclectic being what it is — ie, adj, deriving ideas, tastes, style, etc, from various sources — so too did Joni Mitchell, Ry Cooder, Leonard Cohen, her dad's Peter's surf guitar, Jackson Browne and a host of other styles and practitioners. Wordsmiths like Bright Eyes, Martha Wainright and Jarvis Cocker took a certain hold, too. The great Terry Prachett, whose tomes jam her shelves, was like a life coach.
But Clare Younis, or rather, Younis Clare, she reversed her name recently, was always going to be her own musical stylist. Her natural creative bent, as much as any of the noises and people about her, would see to that. And living in treehouses where people like studio good boy/bad boy Phil Spectre once hung out, knocking about with such units as the Brian Jonestown Massacre, losing the use of an arm for two years — an excruciating experience she recommends to no-one — and tripping about the globe from California to Bristol would all serve to fuel that creative flame.
Funny thing, her first album — Groupies for Governesses — comes from that LA Laurel Canyon rock mythology that spawned all manner of rock, blues, jazz, psychedelia, bluegrass, folk, Latin, country and western, you name it. Younis' title references a Frank Zappa story about the comings and goings among his entourage. Fact she herself worked as a nanny while in LA had nothing to do with it, she says.
Younis has just released the single I Love You Like Kanye Loves Kanye, a catchy, bouncy, reggae kind of indie pop tune that harnesses some of those widely-drawn impressions into a cheerful kind of cynicism that almost masks the talent purring away under the Younis bonnet. The album's pencilled in for release in September.
Younis is full of some flu thing — hot, cold, shivery, razorblade throat and all husky voiced — as she talks to TWR. But she's in good form nonetheless and upbeat about the quirky Kanye video she's pulled together.
"When I was at Melbourne Uni doing creative arts, I studied film production. I used to make lots of videos and I'd always said to people that one day I'd make a Mills and Boon romance one," she says, a grin almost visible down the phone line.
"So finally I did and it's totally weird. I was really worried about, I sent my family an email saying please don't disown me.
"The shooting was done quickly, using a green screen, and with a  lot of improvisation in the studio just around the corner from my house in Fitzroy. It took a while to get it all edited.
"As for the album. I made it earlier but then had a really bad back injury and couldn't launch it properly, so it hasn't been released properly. It's coming later in the year and i've got a couple more singles still to release."
Younis doesn't want to sound like a sad case but it's fair to say she's taken her lumps with injuries and illness the last few years. The yin yang mix of sentiments in Kanye seems almost a personal metaphor.
"No-one really seems to know about my arm," she says. "Basically what happened was one of the nerves in my shoulder, the long thoracic nerve, just died, it completely stopped being able to send signals. My whole scapula was just hanging off my back.
"It took about two years as it slowly mended and it was really bad, just miserable. It took a real mental toll. I know it makes me sound tragic and sad but I couldn't play music or brush my hair. All of a sudden just losing that basic function of being able to lift your arm, to carry groceries or anything you'd  normally do without even thinking.
"My partner Seth was looking after me for a fair while but he was back and forwards to Bristol while I was in London. I saw every neurologist I could find, in the UK and in Australia, but acupuncture from a Chinese doctor was the first thing that made any difference.
"The general consensus since then has been to just leave it. I think it's all right and I don't think of it so often but I measure everything against that pain. it was so painful. Last year, I had a herniated disc in my back — that doesn't compare."
Yep, youch. Times three. But Younis isn't preoccupied with what ifs and why fors. At 31, she's still plenty to do and even if injury served as a powerful driver of musical expression, there's lots more in the kitbag.
Right now, the classically trained singer has an impressive tribe of session musicians behind her, amassed by producer Simon Moro; bassist Craig Newman, drummer Gerry Pantazis, guitarist Brett Garsed, Phil Turcio on keyboards, guitarist Ben Fraser, percussionist John Clarke and violinist Matiss Shubert. There's a power and dynamism that's rare.
Younis is maintaining a performance connection with some of her besties, The Real Hot Bitches — an outlandish ensemble of women she describes as "outrageously fab dancers who wear lycra and giant mullet wigs and basically dance to the best 80s songs". The catchcry is "maximum passion". The shows are something psychedelic.
Songwriting is always around her, inspiration waiting to rear its head at the oddest times but also encouraged by some regular musical experiments.
"Writing is very private for me. It was probably a bit easier when I was younger when I was a bit more self-absorbed and I didn't think that people would be listening closely — now, I'm more aware of people listening," she says.
"I find people like Joni Mitchell, Leonard Cohen and Jackson Browne are  really fearless writers who put it all there so eloquently and beautifully. Their songs are songs people can identify with, with their own feelings, and not think so much that it's about you.
"The connection is the human condition. That's one my driving forces as a songwriter and something I know because of how much other songwriters' writing has affected me. I have people, strangers, write to me saying things like 'I've been going through a really rough time but I've listened to your music and it really helps me. That makes you feel good, especially because if you're in the arts you can be made to feel like you're a bit useless.
"I also have a little side project called Woman or Horse which has been fantastic. Two of my friends and I sing three-part harmonies. I tend to take pre-existing rock/pop sings and arrange as country songs. That's been really good."
Songwriting being the unscheduled creature it is, Younis says it's important to always have a phone or some of recording device on hand when something jumps into her head. But it's nice to also sometimes have some music ready-made that she can just riff to with her own melodies and lyrics.
"The music I write is pretty diverse, I've always had a really good time experimenting with all types of different genres," she says.
"Right now I'm also working with a US guy on pure pop. I love songwriting and a challenge and Atlanta georgia producer Roark Bailey, who's worked with Gladys Knight, Fergie and all these amazing people, has sent me a couple of tracks — no melody lines or lyrics — to work on. So I've written some melody and lyrics."
How are they going to go? It all remains to be seen, of course, but we're thinking it will be worth sneaking out of school to hear.
Oh and that Spector treehouse? Well, that's a story in itself, all 100-plus steps up to it, and maybe best Younis explains in her words:
"Phil Spector's house was obviously a mecca for all the cool crew around that time. Rumour is that John Lennon spent his 'lost weekend' living in my treehouse. I know for a fact that Sean Lennon came and stayed there immediately after his father was shot.
"I know this because my neighbour had been living in the mirror image treehouse for the 30 years prior to me moving in. She rescues monkeys from research laboratories and used to keep them under her house in a big cage while she waited to put them in sanctuaries.
"One day she found a strange man playing guitar under her house. Immediately went and hammered on Mr Spector's door yelling 'Phil! One of your freaks is hassling my monkeys' and Phil said 'Oh that's just Bob Dylan. He's harmless'."