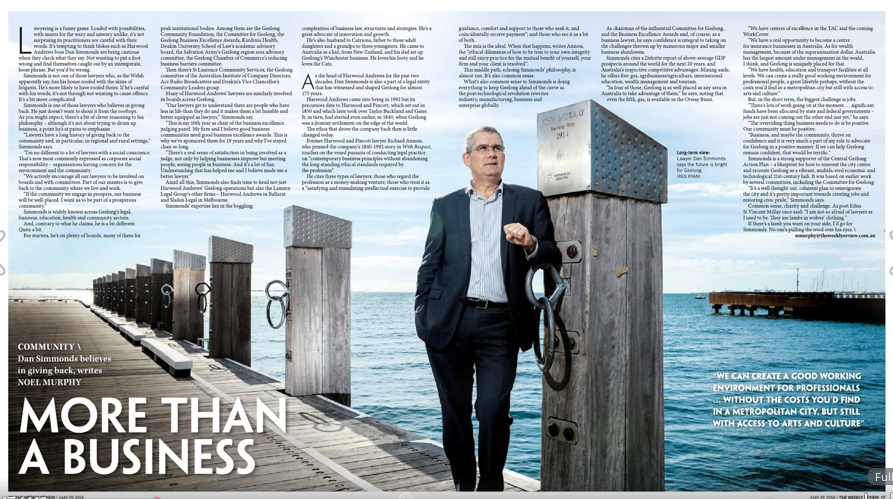 Lawyering is a funny game. Loaded with possibilities, with snares for the wary and unwary unlike, it's not surprising its practitioners are careful with their words. It's tempting to think blokes such as Harwood Andrews boss Dan Simmonds are being cautious when they check what they say. Not wanting to put a foot wrong and find themselves caught out by an intemperate, loose phrase. But you'd be wrong.
Simmonds is not one of those lawyers who, as the Welsh apparently say, has his house roofed with the skins of litigants. He's more likely to have roofed theirs. If he's careful with his words, it's not through not wanting to cause offence. It's a bit more complicated.
Simmonds is one of those lawyers who believes in giving back. He just doesn't want to shout it from the rooftops. As you might expect, there's a bit of clever reasoning to his philosophy – although it's not about trying to drum up business, a point he's at pains to emphasise.
"Lawyers have a long history of giving back to the community and, in particular, in regional and rural settings," Simmonds says.
"I'm no different to a lot of lawyers with a social conscience. That's now most commonly expressed as corporate social responsibility – organisations having concern for the environment and the community.
"We actively encourage all our lawyers to be involved on boards and with committees. Part of our mantra is to give back to the community where we live and work.
"If the community we engage in prospers, our business will be well-placed. I want us to be part of a prosperous community."
Simmonds is widely known across Geelong's legal, business, education, health and community sectors.
And, contrary to what he claims, he is a bit different. Quite a bit.
For starters, he's on plenty of boards, many of them for peak institutional bodies. Among them are the Geelong Community Foundation, the Committee for Geelong, the Geelong Business Excellence Awards, Kardinia Health, Deakin University School of Law's academic advisory board, the Salvation Army's Geelong region area advisory committee, the Geelong Chamber of Commerce's reducing business barriers committee.
Then there's St Laurence Community Services, the Geelong committee of the Australian Institute of Company Directors, Ace Radio Broadcasters and Deakin's Vice Chancellor's Community Leaders group.
Many of Harwood Andrews' lawyers are similarly involved in boards across Geelong.
"Our lawyers get to understand there are people who have less in life than they do and it makes them a bit humble and better equipped as lawyers," Simmonds say.
"This is my 10th year as chair of the business excellence judging panel. My firm and I believe good business communities need good business excellence awards. This is why we've sponsored them for 19 years and why I've stayed chair so long.
"There's a real sense of satisfaction in being involved as a judge, not only by helping businesses improve but meeting people, seeing people in business. And it's a lot of fun. Understanding that has helped me and I believe made me a better lawyer."
Amid all this, Simmonds also finds time to head not just Harwood Andrews' Geelong operations but also the Lantern Legal Group's other firms – Harwood Andrews in Ballarat and Sladen Legal in Melbourne.
Simmonds' expertise lies in the boggling complexities of business law, structures and strategies. He's a great advocate of innovation and growth.
He's also husband to Catriona, father to three adult daughters and a grandpa to three youngsters. He came to Australia as a kid, from New Zealand, and his dad set up Geelong's Winchester business. He loves his footy and he loves the Cats.
As the head of Harwood Andrews for the past two decades, Dan Simmonds is also a part of a legal entity that has witnessed and shaped Geelong for almost 175 years.
Harwood Andrews came into being in 1992 but its precursors date to Harwood and Pincott, which set out in 1850 and which later took over Taylor Buckland and Gates. It, in turn, had started even earlier, in 1840, when Geelong was a frontier settlement on the edge of the world.
The ethos that drove the company back then is little changed today.
Former Harwood and Pincott lawyer Richard Annois, who penned the company's 1840-1992 story in With Respect, touches on the vexed pursuits of conducting legal practice on "contemporary business principles without abandoning the long-standing ethical standards required by the profession".
He cites three types of lawyers: those who regard the profession as a money-making venture; those who treat it as a "satisfying and stimulating intellectual exercise to provide guidance, comfort and support to those who seek it, and coincidentally receive payment"; and those who see it as a bit of both.
The mix is the ideal. When that happens, writes Annois, the "ethical dilemmas of how to be true to your own integrity and still enjoy practice for the mutual benefit of yourself, your firm and your client is resolved".
This middle path, echoing Simmonds' philosophy, is almost zen. It's also common sense.
What's also common sense to Simmonds is doing everything to keep Geelong ahead of the curve as the post-technological revolution rewrites industry, manufacturing, business and enterprise globally.
As chairman of the influential Committee for Geelong, and the Business Excellence Awards and, of course, as a business lawyer, he says confidence is integral to taking on the challenges thrown up by numerous major and smaller business shutdowns.
Simmonds cites a Deloitte report of above-average GDP prospects around the world for the next 20 years, and Australia's respective competitive advantages. Mining aside, he offers five: gas, agribusiness/agriculture, international education, wealth management and tourism.
"In four of those, Geelong is as well placed as any area in Australia to take advantage of them," he says, noting that even the fifth, gas, is available in the Otway Basin.
"We have centres of excellence in the TAC and the coming WorkCover.
"We have a real opportunity to become a centre for insurance businesses in Australia. As for wealth management, because of the superannuation dollar, Australia has the largest amount under management in the world, I think, and Geelong is uniquely placed for that.
"We have health, education and transport facilities at all levels. We can create a really good working environment for professional people, a great lifestyle perhaps, without the costs you'd find in a metropolitan city but still with access to arts and culture."
But, in the short term, the biggest challenge is jobs.
"There's lots of work going on at the moment … significant funds have been allocated by state and federal governments – jobs are just not coming out the other end just yet," he says.
"The overriding thing business needs to do is be positive. Our community must be positive.
"Business, and maybe the community, thrive on confidence and it is very much a part of my role to advocate for Geelong in a positive manner. If we can help Geelong remain confident, that would be terrific."
Simmonds is a strong supporter of the Central Geelong Action Plan – a blueprint for how to reinvent the city centre and recreate Geelong as a vibrant, multifaceted economic and technological 21st-century hub. It was based on earlier work by several committees, including the Committee for Geelong.
"It's a well thought-out, coherent plan to reinvigorate the city and it's pretty important towards creating jobs and restoring civic pride," Simmonds says.
Common sense, charity and challenge. As poet Edna St Vincent Millay once said: "I am not so afraid of lawyers as I used to be. They are lambs in wolves' clothing."
If there's a lamb you want on your side, I'd go for Simmonds. No one's pulling the wool over his eyes.