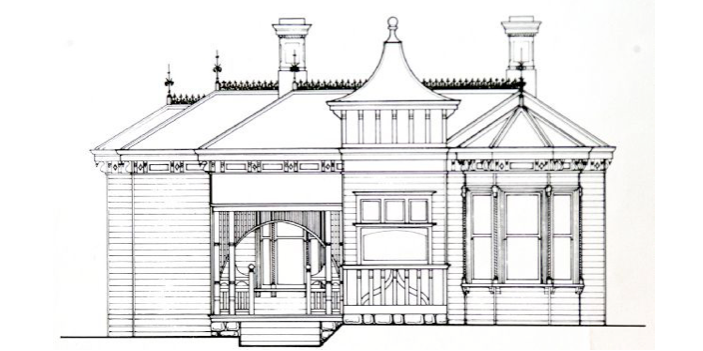 Boocock's beehive, Nango Bodan (above), the Bombardier turntable, Anglesea Terrace's hubcaps, the bluestone cobbles of Dogleg Lane, musical graffiti of the drunks highway, wooden shingle roofs ….
Sunning my carcass on the verandah, looking across the chimney pots and corrugated gables of Geelong West, I figured I should re-explore old Ashby, Kildare, Little Scotland and surrounds by hoof.
Not just the main drags but the back-streets and old dunny-cart lanes that have served as many weary labourers wending their way home as kids playing footy, cricket and dustbowl marbles.
Rod Charles once pedalled every street, photographed every house, knocked on every door – presaging what became Geelong West's heritage overlay protections. Geelong West is a living museum of Australian vernacular architecture, chiefly to his efforts. That's what you call a town's mayor.
That architecture's grown from simple slab cottages to valley/hip-roofed structures with back-to-back chimneys then on to the high-hip house variations and all sorts of permutations.
Roam old West and you'll find dormer windows, ancient weatherboard sheds and garages, more quoins, corbels and clerestories than you can poke a chimney cricket at. Many homes have clever renos – hybrids that might earn their own heritage value in time.
Pako is its own entity too. The butcher's beehive, sure, but also Iberian facades, churches, bluestone walls, family names emblazoned across storefronts – Shirley, Robertson, Thompson, Hooper – Victorian gems encased in the new, like the West library.
West's architecture is as social as structural. Stories everywhere. The second-storey brickwork that fell on a poor bloke beside West Town Hall. The Underbelly hitman barfly of a certain pub. One-time dens of iniquity and pits of indemnity now salubrious eateries.
I'm taken by the iso-song Van Walker and The Ferriters penned for Murphy's pub on Aberdeen about its resident ghost, Mary:
"The hounds and pups all in their cups each blissfully unaware,
"While you're havin' fun she'll pinch your bum but there's nobody there."
 She'll do worse than that, too, I've heard.
Old West is curiosities around every corner: rooftop griffins, kaleidoscope leadlight, bullnose verandahs, slate and brickwork, sawtooth roofs, terrace houses, cottage gardens, peppercorns, fig and loquat trees spilling over fences, Victorian, Federation and Edwardian masterpieces ….
Villamanta Street's a favourite, ever since I scored a wall chart of beautiful ink drawings of its houses penned by Deakin architecture students.
The street's been home to fruit shops, tobacconists, confectioners, Chinese churches, pubs, bakers, horse and cart deliverymen, the toffy Corio Club's quoits, skittles, croquet and blacktie balls, the Missionary Sisters of St Peter Claver. One-time Cats skipper James Conway built an extra-long bathtub for his Nango Bodan homestead.
Villamanta boasts the charming Galashiels, Subiaco, Buryan, Lithca, Almurta, Highgate. If you get inside, you might find cellars, bell pulls, iron pickets, sculleries, leadlight, recessed window seats, bell pulls, mortice-and-tenon studs, trap doors, porcelain sinks, wooden wash troughs, china knobs, dado walls, marble fireplaces.
That wall chart was pulled together by Peter Gyulavary and Kerry Sharrock, who had hopes with others for a village to protect Geelong's old homes – after some 300 timber houses were being demolished a year.
In 1982, the Australian House Museum got going at Deakin Waurn Ponds. Didn't last long. The uni soon evicted its dozen or so buildings. Hooroo to one more Geelong museum. More ghosts forgotten.
You know, maybe we need a few more songs like Mary to help keep a grip on our heritage. Thanks, Van, by the way:
 "Jill and Jack ain't coming back, they won't drink there anymore,
"They swear the pair got locked inside the broke unisex door,
"Then and now another crowd leave voting with their feet,
"Old Johnny Kiss went for a piss and left white as a sheet."
This article appeared in the Geelong Advertiser 9 February 2021