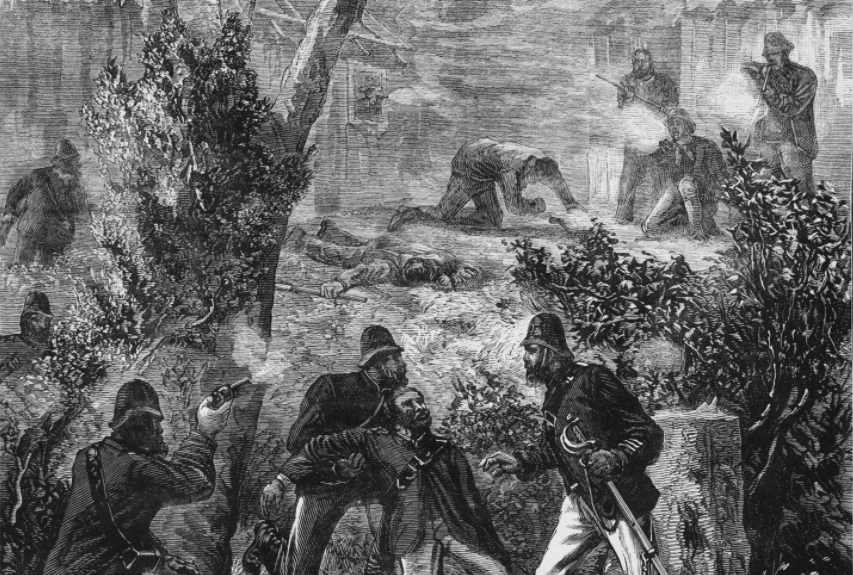 HAD this bushranger following me around for years now. Not the Vic Sheffield Shield variety but a bloke acclaimed as the most erudite, charismatic, narcissistic and educated of the colonial highwaymen.
Not that he bailed up coaches.
Pulled a bank robbery at Egerton while masquerading as a Bacchus Marsh preacher, made off with a gold-and-banknote fortune then blew it. Made a mockery of Ballarat's brand new jail by pulling the door out of its frame and basically walking out.
He ripped people off with shipping and smuggling cons, ran seances, unholy rackets left right and centre. Supposedly wanted to join the Kelly Gang. And, yeah, big shootout with the traps, multiple deaths — including a cop.
Andrew George Scott was an Irish ex-pat, the son of a preacher, with a penchant for young men, grand ideas and silver-tongued double-talk, with a highly developed disdain for the law and its practitioners. A chronic bullshit artist, he could captivate a room of hundreds with high seas/ adventure tales and lofty indignation about ne'er-do-wells forced into lives of crime.
His alter-ego, Captain Moonlite, wound up at the end of a rope in Darlinghurst 1880.
He's been a lot of things down the years, even a Great Ocean Road restaurant at Anglesea. A while back now he was a band I played in at pubs, festivals, town halls, school dances – gigs all around the shop, TV stuff, docos, concerts, vinyl album, protest rallies, even a bad movie.
Didn't take much notice of the name. Knew he was a preacher-turned-bushranger, which sounded a clever career change until it went sideways, but I heard the name a lot. A real lot.
Then I found myself editor of the Bacchus Marsh Express, in a National Trust classified building with old wooden-type printer, glorious upstairs office, handsome elm at the window and tiger snakes under the floor.
A spit away was the Holy Trinity Anglican Church where Scott preached his Gospel. Each day, I drove the Marsh's Ave of Honour, past orchards and an abattoir hosting ancient remains of the Woolpack Inn, reportedly Moonlite's watering hole. Like any self-respecting bushranger he liked a dram or six.
Scott featured in The Express, penning letters as well that didn't hold back in opinion or ramble. Locals told me tales about Moonlite, whisperingly referring to his presumed male lover, James Nesbitt — an outrage, in the day, for a clergyman and an abomination for a bushranger. The colonial stain of rum, buggery and the lash were still frowned upon.
Moonlite the band came and went but more recently Facebook gave it a certain new life; old photos, old bandmates, old recollections by others. He's still tracking me.
Then Geelong-bred journo Garry Linnell popped out a book called Moonlite just in time for Christmas. Linnell was last editor of The Bulletin, founded by Geelong-born J.F. Archibald, whose very first edition of The Bulletin featured a first-hand report of Moonlite's hanging.
Linnell's Moonlite is a fair romp through the bushranger's life and times, with more local ties again.
Julius Bruun, very chummy with Scott until he reported him as the Egerton robbery suspect, wound up assistant master at a boys school in Geelong.
While behind bars, Moonlite befriended Laurence Shanklin, convicted of murdering a man in Geelong in 1861; likewise, gunsmith Thomas Rea, a would-be aeronaut who gulled Geelong folks with hot-air balloon and perpetual-motion machine scams.
Curious thing. Geelong Grammar old boy Peter Carey, a Marsh expat, wrote The True History of the Kelly Gang, about Moonlite's contemporary, Ned. Young Ned made his way to Geelong, incidentally, with bushranger Harry Power but that's another story.
Anyway, I interviewed Carey's mum years ago, while writing an obituary for his dad.
"You know my son Peter, don't you? He writes these books about sex," she said, pain etched across her face.
It was around the time his raunchy Bliss novel hit the silver screen.
Probably a good thing he stuck with Ned and not his local bushranger.
This article appeared in the Geelong Advertiser 12 January 2021