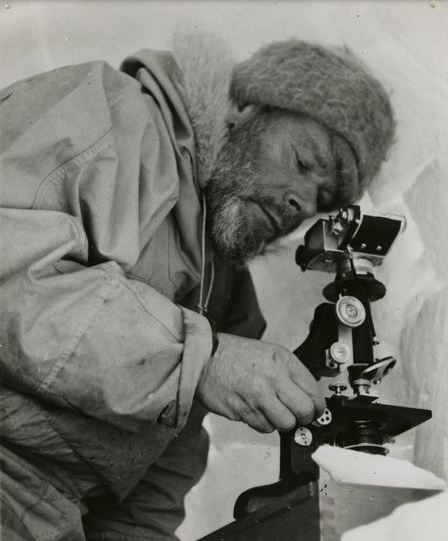 Nice to hear the idea of remembering explorer John Bechervaise by naming a lane in Belmont's Antarctic precinct after him. He'd be in good company with the neighbouring Shackleton, Peary, Scott and Amundsen thoroughfares.
But a laneway doesn't really cut it. After all, he picked up a Polar Medal, an OAM and an OBE and was widely known for his efforts as an explorer, writer, photographer, artist, mountaineer and historian.
If you're talking Antarctica and Geelong you can round up a few others, too: Bertie Armytage, Phillip Law, Ivan Hawthorn, Rod Mackenzie, Bruce Webster, Ted Giles, Jenny Mackenzie, Fred Elliot, Duncan Mackenzie … all have abiding links to the austral polar region but bugger all recognition.
Latest I heard of Bechervaise, his old house up on Roslyn Road went on the market. Not far from his explorer colleagues' stomping ground. And just a spit from South Street, named presumably for those people who don't quite get the Antarctic connection.
I doubt it helps, though. If you were re-naming streets, it might be a good place to start.
John Mayston Bechervaise was a polymath. Across everything from poetry to survival. Led three Australian National Antarctic Research expeditions in the 1950s, taught at Geelong College, a craftsman, naturalist, hiker, raconteur …
He took students into Central Australia in ex-army blitz buggies, led the first expedition to summit Tassie's Federation Peak, declared by Edmund Hillary Australia's only real mountain – another College effort – and spent 12 months on Heard Island conducting meteorological observations, radiosonde balloon releases, radio comms. Sixty huskies needed feeding, too.
He recorded everything, right down to the Antarctic dinner menu for Elizabeth II's coronation: Edinburg pudding, Antarctic penguin breast, station skua, seal steak, roast Drygalski mutton, snow-cured Kerguelen cabbage and stuffed Heard penguin pie. Give you indigestion just thinking about it.
Bertram Armytage, born at Elcho Park, educated at Geelong Grammar and Cambridge and married to Blanch Chirnside, was on Shackleton's 1907-09 British expedition. Led a party into the Farrar Glacier, narrowly missed the jaws of killer whales, reached magnetic south and climbed Mount Erebus.
Fought in the Boer War, decorated with the Queen's Medal, the King's Medal, the Silver Polar Medal and a medallion from the King of Belgium. At 41, he donned his dinner suit and medals, and shot himself in the head at the Melbourne Club. Figure that.
Phillip Law, 'Mr Antarctica', trekked south 28 times, mapped 5000 km of coastline, established each of Australia's three bases, was first director of the Australian Antarctic Division and awarded an AC and a CBE.
The Danish polar expedition ship Nella Dan was named for his wife Nel – she'd be Mrs Antarctica, I figure – and captured movingly in local author Favel Parrett's When the Night Comes. If Law was going to get hypothermia anywhere, you'd think the South Pole but, nup, he copped it at Eastern Beach going for a lifesaving certificate.
Ivan Hawthorn helped Parrett, sharing nous gleaned from winters in Antarctica, and four Antarctic Polar Medallions. He was expedition OIC twice.
Rod Mackenzie, OA, former MP and President of the Victorian Legislative Council, went south six times; to Mawson, Casey, Davis, Macquarie Island. Worked as technical officer, rebuilt stations, catalogued birdlife, belted through 12 miles of unbroken ice to Russia's Mirny Station when it ran out of fuel. Big party ensued and he helped lug the tired and emotional blokes back to their station. Huskies and Russkies.
He's been instrumental in Victoria's dying with dignity laws, an ongoing advocate of Geelong High School's heritage and even in his 80s will happily remind you he was always called 'The Kid' when he rocked up to The Explorers Club.
These blokes, and women, are all locals. There may be more, too. It's probably time they came in from the cold.
This article appeared in the Geelong Advertiser 15 December 2020.