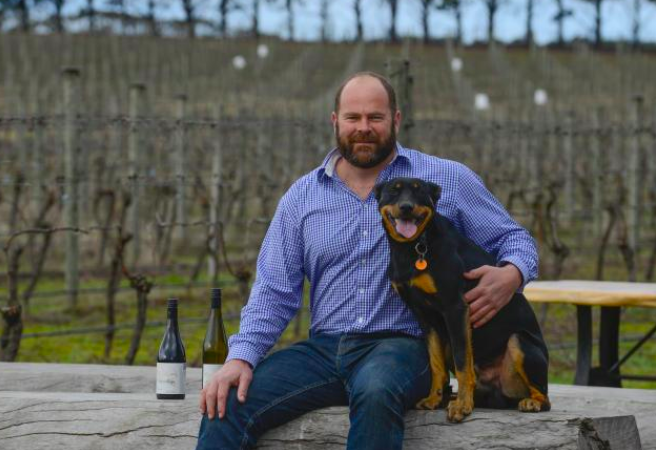 Few things say Australia more categorically than corrugated iron and grey, weathered timber. It's fair to say, though, that wattle buds, gum leaves, pock-marked basalt, sun-bleached sandstone and bright-eyed kelpies give a fair approximation of Terra Australis, too.
The cracked, ageing weatherboards and tumbledown ironwork of rural decline – think rusting tractors, faded advertising signs and tumbledown verandas – possess a quintessential Aussie-ness that's enjoying a revival across the country.
Recycling, of course, buoyed by the sustainability of the sentimental, is pretty much in overdrive with little sign of easing. Pickers emporiums, for instance, are enjoying a mass-media popularity not seen in years.
Is it any wonder homeware designers work hard to emulate the distressed styles they find increasingly hard to source? Not Sam Murray, though. Not that he's a homewares designer as such, though he is pretty clever with glass.
He's in the vigneron business. Which is perfect for a life-long collector who's managed to recycle the detritus of a dozen or so house demolitions and a repository of farming, commercial and household artefacts into a king-size cubby hut that's dripping art and rustic charm.
It's something you'd perhaps term bucolic bohemian, if you're looking for a tag. Its real name is the Oneday Estate in Curlewis.
Every turn, every corner, every nook and cranny of this winery gives up some form of old-world beauty: woodgrain, worn brickwork, multi-hued stonework, ceramics, metalwork, rusted bolts, ferrous oxide, chandeliers, timber barrels, cracked paintwork, multi-textured glasswork, bouteilles de vin, old bikes, tango dancers, cash registers, hurricane lanterns …
It doesn't seem to stop, inside or out. Peer into the benchtop and you'll find glass shards impregnated there; same in the polished concrete. The dunny door, with its rose-gold hinges, comes from Robert Holmes a Court's old front door. Fireplaces and mantlepieces have been sourced from old bridges, boathouses and more.
There's West Australian sandstone from offcuts at footy medico Geoff Allen's Point Lonsdale farm. Walls of timber – blackened, sanded, polished, scrubbed – floors and counters of delicious honey tones, and partitions of striking, watery designer glass.
"Yeah, it's not bad," says Sam in an understatement that's quintessentially Aussie too. Pressed for more, though, he soon warms to the task of explaining the origins of his collection and how it has come together to create the winery's look.
"I bought various things and knocked them over and recycled them. There's stuff like the old Barwon Heads bridge I used for all the big pillars making the bar and parts of the structure of the building, the original old boathouse on the Barwon River, big timbers out of the Queenscliff marina with couta boat rings in them."
Keep casting about and you'll find remnants of Ocean Grove's old Catholic church.
"I dragged them around a few different spots but the building started in 2001 after we knocked down the church. We did all the demolition ourselves and, as soon as the trusses came down on the crane, we had them on the truck and straight up again," Sam grins.
"I did this over ages – a bit of it I'd barter for with wine. We planted the vines in 2001, did our first vintage in 2005: pinot, shiraz and riesling. It's really good, it's up and about."
Sam's an Ocean Grove lad, partner to Jo and dad to daughters Ava and Vivienne. He played footy with Ocean Grove and at the Cats in the under 19s and Magoos before he was "sent to Tasmania and New Norfolk" where he played under North Melbourne's 1975 flag player Peter Chisnall.
In between the football, Sam was a bartender, a chippie learning glass-making skills from mates, a student of matters viticultural, a designer and a full-blown recycler as he pursued his Oneday vision. He's maintained a sharp eye for art – check out, among other pieces, William Lingford's iconically Aussie brushwork at the winery – and a shrewd talent for cuisine: witness the thumping paellas regularly on offer at Oneday.
Extensive as all his collecting, hoarding and recycling has been, Oneday Estate is like any other winery/reception centre – there's always something to do. "We've been doing weddings since 2011; it's open Sundays too. Last week we had 300 people.
"People think we named the winery Oneday because we're only open to the public on Sundays but it came from an old line I used to always say: 'One day I'll be finished'," says Sam.
Somehow, however, we're not convinced he's ever going to finish collecting and recycling. He'll probably still be at it when he's corrugated and grey himself.
LINK: https://www.theweeklyreview.com.au/play/onedayestate-wine-local-winery-a-perfect-aussie-escape/