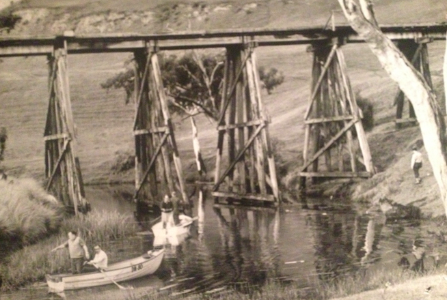 You could almost swear they were a couple of Viking boats plying their way along the Barwon as they emerged wraith-like from a thick mist hanging on the water at Queens Park.
The long-necked black swans have an elegant carriage about them, no doubt. Along with the gang-gang cockatoos, grebes, jenny wrens, firetails, coots and other feathered colleagues in the area, they make an impressive avian menagerie along this popular and ancient water course.
Been watching their activity with interest as the waters rise over recent weeks to rains deep in the Otways gurgling their way to the sea. Nothing like a flood along the Barwon to make the surrounding antediluvian seabed a squelching quagmire. Or the surface a washing-machine cappuccino froth of tannins.
The birds always seem pretty much untroubled though. Not so the kayaks, perambulators, joggers and cyclists and fisherfolk; they clear out for a bit. Seasonally adjusted. Which leaves the place pretty much to me to slosh and slide about and daydream my way around.
Not enough daydreaming these days, I reckon. If running is a great doctor for the carcass, then daydreaming's a handy psychologist for the brainbox. And Queens Park's green caldera-like surrounds are strikingly therapeutic. Besides, there's enough of the weird and wonderful down there to keep you preoccupied for hours.
Go back a bit and you'll find a right royal brawl over the bridge, for one thing. This paper railed against it being named Queens Bridge, arguing: "Levien's bridge is by far the better name, and Levien's Bridge we shall continue to call it."
Never mind that the bridge put Levien, who'd been running a punt business, out of business. The Princes Bridge downstream at Shannon might have been Balyang bridge, too, if our newspaper forebears had their way. Neither, however, managed to get past the royalists at City Hall.
Each time I'm in the vicinity I'm reminded of the Aboriginal canoe tree on the golf course which some time ago was partially incinerated by well-intentioned nincompoops trying to apply heat to a fungus or somesuch threatening the old stump. Likewise, of stolen cars washed up by floodwaters beneath the bridge, or secreted in bushes near the Deviation, of dogs I've fished out of the water, snakes I've leapt over, a multitude of fish that got away, artisans and musos and boozers doing their thing at the old bluestone mill.
Down the years, there've been long days in the field at summer cricket, Tarzan swings, uni barbecues, glue-eyed rabbit bait victims, tiger snakes, heated motorist stand-offs on the one-way bridge, Scottish bagpipe snarls drifting across the flat, and blistering vocabulary lessons from golfers hacking and shanking their way around the back nine.
Gold mining went on there once, to little success. Various sandstone, basalt and quartz quarrying enterprises, too. You'll find them inked on a handsome map that Daintree, of FNQ fame, plotted in the 1860s.
Paper and flour mills, a devil's pool and falls, an impressive engineered water race, rugged soaring cliffs, pretty stony cascades, algal blooms, the Moorabool's confluence, whale and shark teeth, marine fossils, one-time giant chimney stacks, silos, Aboriginal birthing sites … there's plenty more as you hit the Fyansford Common and surrounds.
Not to mention a new suburb springing up where steam trains, water races and cement plant operations ran for a hundred years.
Strange murder down there back in 1966, when Herne Hill 14-year-old Russell Rushton went missing. Blond and slight, he came home from Bell Park High before heading out to watch the trains shunting at the Geelong Cement works at Fyansford. He didn't come home again.
Police launched a search (see photo above) and over the weeks between May 13 and June 23, hundreds of circulars went around the State as police and the boy's family searched desperately for clues to his disappearance.  His body was found by three Morongo schoolgirls on a cross-country run near the Moorabool River.
Chief Justice Sir Henry Winnecke said the crime was "almost inexplicable''. Russell Rushton had been stabbed more than 20 times in the chest and back. The killer was another 14-year-old, Phillip George Batty, of Herne Hill. His mate. Up to a point.
The Criminal Court heard an argument started over Batty being allowed to drive "Puffing Billy steam engine trains" trains at the quarry. The court heard the boys were neighbours but Batty didn't like Rushton playing in the same area.
"The first stab could well have been done in an act of self-defence; nevertheless there are some 21 to 22 other stab wounds inflicted with such brutality and uncontrolled violence that we must look to the inner recesses of the mind to search for an explanation,'' Batty's lawyer, W.C. Crockett, told the court.
Chief Justice Winnecke described the killing as "a bad one; there was no excuse for it and apparently no sensible motive''.
Batty pleaded guilty to manslaughter. He was sentenced to 10 years jail with a minimum of six. He died in 2013.
LINK: https://urlzs.com/45pH4
Geelong Advertiser 2 July 2019